As our SPSFC team finishes reading our ten quarterfinalists out of our first round allotment, I will be posting review roundups and official scores. As you read our thoughts on these ten books, keep in mind that we have a variety of tastes on this team, and a low score does not necessarily indicate a bad book. One or two (or even all four!) judges bouncing hard off a book can tank a score and keep it from advancing in this competition, but that doesn't mean the same book might not be perfect for another reader.
Today, we're looking at a The Last Shadow, J.D. Robinson's tale of a 1991 Boston detective taking on a case that throws him into the middle of a series of bizarre and inexplicable events.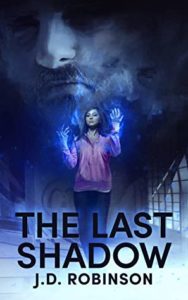 Jay's Review and Rating
Despite a tropey beginning and a solid-but-unspectacular ending, The Last Shadow won me over with an intriguing mystery and skilled storytelling that had me increasingly immersed in the weirdness of the strange goings-on. Add solid characterization and (admittedly imperfect, but on-the-whole positive) representation of neurodiversity, and it was perhaps my favorite of our first-round SPSFC entries.
Jay has rated The Last Shadow 7.5/10. For more detail, check out his full review.
Esme's Review and Rating
The beginning was set up real quick, but somewhere around the 50% – 75% range it drags a little bit as I was wondering where it was going. Once the big reveal and the sci-fi aspect came out I was more interested and it read quickly to the end.
Esme has rated The Last Shadow 7/10. For more detail, check out her full review.
Lilyn's Review and Rating
The Last Shadow is an interesting mix. It's got cringeworthy tropes that are easy to dismiss, but the characters aren't one dimensional. The author seems to do their best to treat the characters (and their associated differences) with respect. There are still elements that will annoy some readers, but this is much more well done than it could have been. It was technically well-written but on a personal level I just found it hard to engage with. I'd be willing to check out more work from the author even though this one wasn't a home run for me.
Lilyn has rated The Last Shadow 6.5/10.
Bill's Review and Rating
The Last Shadow was one of my favorite works reviewed as part of the SPSFC, at least thus far. It is a bizarre fever dream containing a thrilling mystery, elements of horror, and strange emerging superpowers. But essentially no science-fiction aspects for much of the story. The characters are engaging with nice developmental arcs, and the story moves forward with good energy. There is one issue related to the treatment of autism that concerned me, but others who have greater sensitivity than I have expressed the opinion that it is handled respectfully. Oh, and at the end, a nice science-fiction bow is tied across the whole thing. Recommended!
Bill has rated The Last Shadow 7/10. For more detail, check out his forthcoming review at Leviathan Libraries.
Official Scores
| | |
| --- | --- |
| Jay | 7.5* |
| Esme | 7 |
| Lilyn | 6.5 |
| Bill | 7 |
| Team | 7 |
*indicates judge's highest score of the first round (including ties)
Status: SEMIFINALIST.