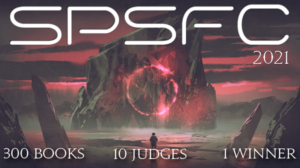 Last week, I told you about the team of judges I'm leading for the Self-Published Science Fiction Competition. This week, it's time to meet our first round entries. Each judging team has been given 30 books. It is our job to whittle that down to three semifinalists–a task that we will approach in two parts. First, the entire team will read extended previews of 10-20% of each novel, after which we will vote on twenty to eliminate and ten quarterfinalists to continue to completion.
Over the next couple months, we will dive into this mountain of books. Expect a few weeks of quiet as we work through the pile, but when all six of us have read enough to start making decisions, we will be back posting eliminations and quarterfinalists as they are determined. And when we have our ten, we will begin the task of pruning that list down to three. But first, let's meet the contestants:
Alan Lennox and the Temp Job of Doom
Brian Olsen
Alan Lennox has been assigned yet another soul-crushing temp job, keeping him from his first loves – drinking, playing video games, and looking for a boyfriend. But Alan's new job proves to be anything but boring when his co-workers start turning up dead. The mysterious megacorporation Amalgamated Synergy has taken a deadly interest in Alan and his three roommates, and the hapless quartet are woefully unequipped to deal with the psychotic secretaries, murderous middle managers, and villainous vice-presidents hunting them down.

Their investigation leads them deep into Amalgamated Synergy's headquarters, but can Alan and his friends stay alive long enough to discover who – or what – waits for them on the top floor?
All is Silence
Robert F. Slater
In a future that could be ours, Lizzie, a suicidal teen-age girl, barely navigates her own life. Then everything falls apart. In an apocalyptic land nearly deserted by disease, she lacks reasons to live until a shocking turn of events reveals a phone number. Her call pulls her dangerously cross-country to meet a stranger she thought was dead.

In a world where there is plenty of food, plenty of gas, plenty of space… fear, anger and a lust for power still control the patterns of human life.
The Ancestor
L. J. Suarez
In the year 12039, Monads rule the planet. As the sole descendants of humanity, they've brought civilization far beyond what it once was before homo sapiens went extinct. When they clone their first full-grown human, dissent explodes over the man known as "Six."

Created in a lab, he's the first living human to walk the Earth since the extinction event centuries ago. With no memory of who he is or where he comes from, Six struggles to find his place within a society where some see him as a threat to their way of life.

Some Monads don't want the human race to continue at all.

When Six is framed for a murder he didn't commit, he's cast out of Monad civilization and forced to confront the harsh world that lies beyond. Six must piece together his past and rediscover his true identity while he grapples with survival in a world that has evolved beyond his own existence.
Before and After
Andrew Shanahan
Ben Stone is terrified. He's terrified because he weighs 601 pounds and needs his right leg amputating. He's terrified because a crane will shortly lift him from his fourth-floor flat and lower him 44 feet to an ambulance waiting below. He's terrified because he hasn't been outside in nine years and he doesn't know who will look after his beautiful dog.

Before and After is a must-read for anyone who loves intelligent post-apocalyptic science fiction with a twist.
Bloodlines
Peter Hartog
When former hotshot homicide detective Tom "Doc" Holliday is recruited to join Special Crimes, he trades in his boring desk job for a second chance to do what he does best, hunt down killers. And his first case doesn't disappoint: a murdered woman with a bogus past, her body drained of blood, and two eyewitnesses wasted on the designer drug goldjoy claiming a vampire did it.

For Holliday is no stranger to the unusual. He wields the Insight, a fickle clairvoyance that allows him to see the dark and terrible things that hide upon his world. After all, when you live in Empire City, where magic and technology co-exist, and humanity endures behind walls of stone and spell-forged steel, anything is possible.

Saddled with a team whose past is as checkered as his own, Holliday embarks upon an investigation that pits them against bio-engineered vampires, interdimensional parasites and the magical masterminds behind it all.

From nightclubs and skyscrapers, to underground drug labs and coffee shops, Holliday's search for the truth will uncover a shadowy conspiracy that spans the ages, and forces him to confront a destiny he never wanted.
Bypass the Stars
Kate Sheeran Swed
Seventeen-year-old Frankie Hartiger can reroute any elevator, steal the data from any ID chip, and scramble the facial recognition software on any security bot. The only thing she can't hack? Her parents. They won't trust her with a coffee order, never mind a position in their interworld exploration company.

When their inaugural inter-universal tour goes wrong, Frankie sets out to rescue her parents—accompanied by Earth's first (and most annoying) interworld immigrant, Jord Mathison. But a transport malfunction hurtles them into the wrong world, where a deposed prince wears Jord's face. To the prince, Frankie's last name is equivalent to a curse: his world is dying, and Frankie's family is at fault.

As a breadcrumb trail of conspiracies leads Frankie toward her parents, she's sure Jord knows more than he's willing to admit. If she can't forge a truce with him to root out the truth, she'll be stuck forever—and if the inhabitants get their way, she'll burn with their world.
Dark Nebula: Isolation
Sean Willson
Lies crafted from good intentions. Death spreading through the stars. When the past returns to claim its due, will anyone survive?

Earth Solar System, the Future. Abigail Olivaw is drowning in self-doubt. Hiding a devastating secret from the populace, the President of the Confederation of Planetary Explorers is horrified when hostile aliens arrive to announce they're putting humanity on trial. Forced to act as her species' defender in court, she struggles to hide her family's hidden multi-generational history that could lead to a sentence of genocide.

Epsilon Eridani Colony. Joyce Green's passion for her job is dwarfed only by her love for her son. So when he dies from a mysterious virus that threatens the entire settlement, the Director of Colonization vows to stop at nothing to discover what triggered the deadly infection. And as she uncovers the truth bit by bit, her heartbreak fuels a berserk need for justice.

Trapped by guilt over a mistake she didn't choose, Abigail falls into a tailspin when the invaders reveal the facts of her race's origins. And when Joyce unmasks a traitor, the rest of her people would be lucky to only die from disease.

With their paths on a collision course, will the women's consequence-laden decisions destroy humankind's last hope?
Day 115 on an Alien World
Jeanette Bedard
A dishonourable discharge left Margo unable to find honest work on Earth. Signing onto a colonizing mission heading to a new world promised a fresh start. Or at least that's what she'd thought.

Strapped into a crashing colony ship, she realized how wrong she'd been.

They hit the ground and the straight forward colonizing mission becomes a scramble for survival. Accidents keep happening—too many to blame on random bad luck. A trail of evidence leads Margo to a startling conclusion—one of her fellow colonists is a saboteur.

Tomorrow is the colony's first communications window with Earth and their only chance to send a message home.

Will Margo stop the saboteur before it's too late?
The Diamond Device
M.H. Thaung
After diamond power promises to replace steam, an unemployed labourer and a thieving noble unite to foil an international plot and avert a war.

Alf Wilson resents the new technology that cost him his factory job, especially as his clockwork leg bars him from army enrolment. He daren't confess his unemployment to his overbearing mother. Desperate over the rent, he ends up in a detention cell with a hangover.

Impoverished Lord Richard Hayes maintains his expensive parliamentary seat by a mixture of charm and burglary. During a poorly planned break-in, he inadvertently witnesses a kidnapping. To cap it all, the police arrest him for the crime. At least he's using a fake identity. The real criminals make off with not just the professor who discovered diamond power, but her plans for a diamond-fuelled bomb.

When Rich encounters Alf in the neighbouring cell, he sees an opportunity to keep his noble reputation intact. He persuades Alf he's a secret agent who needs an assistant. This chance association will take them to the oddest locations. But law-abiding Alf's first assignment? Break Rich out of jail.
Drained
Marc Daniel Acriche
Can you trust your family? Can you trust your friends? Because you may just have to choose.

New York City, 2048. High school senior Casey Parker's life is stuck. Her father dropped out of her life without a word or even a forwarding address; she's fighting with her mother (who's dating a jerk); and her grades are tanking. When her best friend's boyfriend, Martin, goes missing, Casey vows to help her find out why. But Martin isn't just missing. He was abducted by the oppressive political party in charge, the ICP, who intend to brainwash him into a soldier. To help save Martin, Casey takes a dangerous gamble: she allows herself to be abducted by the ICP. Failure could mean the lives of her family; success could mean the lives of her friends…
Dusk Mountain Blues
Deston J. Munden
The Caldwells have one goal in life: to be left alone. They've been living on the backwater planet of C'dar for years, smuggling and scavenging their way to a comfortable life on their Homestead. But you know the saying about all good things – they come to an end. The Civilization wasn't content with falling apart the first time and has finally caught wind of the ol' boys and girls on their little rock in the middle of nowhere. Ain't nothing much they can do about that, though…except fight 'em.

It all comes down to three generations of Caldwells— Luke "Drifter" Caldwell, Woodrow "Appetite" Caldwell, and Cassie "Kindle" Caldwell—as they fend for everything they call home.
Escape from Earth 1
David Dubois
Steve is an aspiring computer programmer and business owner. Zander is a burnt-out but dedicated FBI agent. They don't know each other, but their paths cross when they find a portal to another world. The gateway is not random, and they meet Maximilian Beauregard, the Vice-Chancellor of the United Federation of Americas. He needs their help. Steve and Zander travel to this strange world, quickly embrace new technologies, and get pushed into politics on the world's stage. They want to help, but the more involved they get, the more they realize things are not as they seem. The duo soon gets in over their heads and must depend on one another if they want to survive and escape from Earth 1.
Ever the Hero
Darby Harn
Kit Baldwin just wants to make rent. The only work she can find in the ruins of her devastated city is scavenging for alien technology. When she finds a powerful alien weapon, her discovery pays off more than she could have hoped: it draws the attention of the most powerful of the superhuman Empowered, Valene.
Valene hears everything, everywhere. She suffers for it, and as they begin a precipitous romance, Kit believes she can use the weapon she's scavenged to mitigate Valene's pain. If she can't, Valene will retreat to the soundlessness of space. Without Valene's compassion, the stricken city is left to the mercy of Valene's ruthless father, who denies the assistance the city needs unless it can pay for it.
As Valene's condition worsens, Kit becomes more desperate and unleashes the full power of the alien weapon. In an instant, she is transformed into a being of cosmic power. She can acquire the knowledge and energy of anything – or anyone – she touches.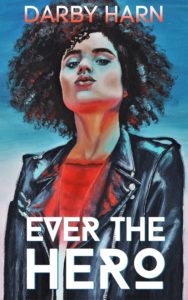 Gates of Mars
Kathleen McFall and Mark Hays
The year is 2187. Crucial Larsen, a veteran of the brutal Consolidation Wars, is working as a labor cop on Earth. The planet is a toxic dump and billions of people are miserable, but so what? It's none of his business. He's finally living a good life, or good-enough. But then his beloved kid sister, Essential, disappears on Mars, and he's summoned up-universe to aid the investigation. When Crucial demands to know why Halo, the all-powerful artificial-intelligence overseeing Earth and Mars on behalf of the ruling Five Families, can't (or won't) locate his sister, he comes face to face with a life-threatening and apathy-ending realization: Essential is a revolutionary.
Harvest
Olga Werby
Almost a century after Keres Triplets asteroid impact and subsequent nuclear exchange nearly ended all human life on Earth, a strange artifact is discovered on one of the moons of Saturn. Who should be sent to the outer reaches of the solar system to initiate the first contact with an alien culture?

Dr. Varsaad Volhard, an evolutionary-socio-historian, is chosen to help the world understand the alien civilization that left an artifact some thirty thousand years ago, before humans even learned to farm, at the time when other human species still walked the earth. While Vars prepares for the mission, her father, Dr. Matteo Volhard, discovers nanobots among the microplastics he studies. The bots are everywhere and seem to have been created to bond with human cyber implants. Why?

Matteo is made to keep his discovery a secret…as well as his and his daughter's true origins. Both were donated to a Human DNA Vault as babies. Matteo was raised as a Seed before leaving with his young daughter to study ecology around the world. Who knows what? Who is in control? How does one communicate with non-human intelligence? People seem to die in gruesome ways as their cyberhumatics go haywire on Earth and on Luna and Mars colonies.

Is Earth under attack or is it all just a cosmic misunderstanding? Vars needs to use all she knows to solve the mystery of the ancient civilization on Mimas, as her dad battles the alien nanobots at home.
A Hymn for the Dying
J.L. Doty
At sixteen years of age, Mathius's life is focused on scrounging bits of food in the midst of a five-way civil war on the planet Novalis III. Two government factions and three rebel factions are all hell-bent on killing one another, and the civilian population is caught in the middle. If Mathius doesn't find food, he and his father, mother and sister will go hungry for the day, a not unusual occurrence. Mathius must also avoid the rebel factions, who frequently kidnap young boys and force them to become soldiers.

Will the Commonwealth of Allied Systems intervene? And what of the Blacksword Regiment, the elite soldiers of the Commonwealth Security Corps? Will they sweep in and make everything right?

And the Kelk Supremacy, a race of strange humans with blood-red eyes, and pale bluish-white skin? They're perfectly human, and yet they are not. Why does Mathius keep seeing signs that the Kelk are somehow involved in the unrest?
Impact
Mark D. Owen
The explosion at the International Space Station (ISS) forever changed the direction of inventor Tamarind Chase's life. His life mission was to mine asteroids, but when the accident triggers an expanding debris field it strands the scientists at Moonbase Verity including the friend that once saved his life. He must find a way to rescue them and empower the secret they have discovered.
The Judas Cypher
Greg Dragon
In a war between man and machine, he must find a way to protect them all…

After a devastating war forced humans to rely on synths for survival, the two have learned to coexist peacefully.

Until now…

When detective Dhata Mays is called in to investigate a homicide, what he uncovers threatens the serenity of this futuristic society. The gruesome murder means only one thing: someone is ready to incite another war. Now, it's up to Dhata to ensure that the truth stays hidden–to protect both sides of the battle. But can he be unbiased in a black and white world that forces him to take sides?
The Last Shadow
J.D. Robinson
The woman in the alley scratches a symbol into the pavement, then vanishes from the video. Now her desperate father is begging Bas Milius to accept one last case.

In 1991, strange things are afoot in Boston. Bas is on the verge of hanging up his hat, until his final client—the missing woman's father—suddenly claims to be someone else entirely. Someone without a daughter.

Across town, Dee Khalaji finds herself seeing visions of someone in the shadows watching a recorded video—one that changes each time it's played back.

In a downtown compound, a secretive couple promises healing to lost souls through compulsory sessions of meditation and dance. But how have they been monitoring each member without the use of cameras? And why does the very first tape in their extensive surveillance collection focus on someone Bas lost a decade ago?

A man on a mission to put the pieces together. A nonverbal autistic girl with the ability to see through others' eyes. A story of identity, connection, and magic, set in a Boston that never was.
Neworld Papers
K.B. Shaw
Is revealing the truth worth the disruption of a society?

Fallon lives in a peaceful world that has no concept of war, or murder, or even love. It is a society that prohibits histories and pledges itself to "The Service of Today and the Building of Tomorrow."

Just weeks before he reaches adulthood, Fallon is torn from his sheltered life as a ward of the state. He is drawn into a subversive group that needs his secret talents and he quickly becomes a chronicler of discoveries that threaten to destroy the very fabric of Neworld.

Can Fallon handle the weight of the new responsibilities thrust upon him while he navigates relationships with the feisty redhead Aidan and raven-haired beauty Lenore?
No Lack of Sunshine
Eric Kay
Warm, tropical weather, strong gusts of wind, poisonous air, and metallic-tasting seas that kill more organisms than it breeds — yet, life on the South Island goes about as well as it can. There was a reason why Earth colonized this place. Everything is familiar, consistent — consistency is a welcome reprieve, and Ava's planet has plenty of it.

The fifth to be born among the stars, Ava sets forth to make a name for herself despite this obscure claim to fame. Being raised by emotionless, loveless robots doesn't exactly merit a natural flair for spontaneity or empathy, but Ava makes do. At the very least, she tries to.
Pale Boundaries
Scott Cleveland
Where do you go after you're torn from the only planet you've ever called home? What do you do when your new home despises foreigners? Who do you blame when they kill someone you care about….and how do you take revenge? Terson Reilly knew things would be different on Nivia. But he wasn't prepared for the draconian environmental laws, harsh population control measures or the prejudice against outsiders-and they didn't expect what he was willing to do to defend himself. Terson finds love when he meets Virene, an independent young woman chafing under the strict social controls herself. The couple do their best to conform, but their rebellious streak leads them beyond the colony's boundaries where their attempt to rescue the crew of a crashed spacecraft unwittingly sets in motion a chain of events that threatens to expose not only Nivia's dark secret, but that of a powerful criminal organization as well.
Prototype
Anne Attias
Can you tell Fake from true? A thriller depicting reality and sci fi, what is true and what is fake? A fancy laboratory researching cures for life changing diseases, but what goes on behind the scenes? Is anything authentic these days? Virtual reality unlimited. From fake news to genetically programmed babies, follow the thrilling chase to uncover the secrets behind the news.
The Rax: Out of Darkness
C.G. Harris
With Earth enslaved by the Raxions, a vicious alien race who dispatches a mentally destructive weapon known as The Fear, humanity's hope hangs on a single savior-a blind runaway named Tael. Together with his new friends, Tael must elude his alien captors, expose a human traitor, and unravel the secrets of an ancient super computer. But Tael doesn't know he's the chosen one, and earth's last hope. With his small band of rebels, he must find a way to destroy the Rax before humanity's time runs out…
The River Twice
Brenda W. Clough
Calla Ang has always known her own power. Her grandmother is the dictator of Jalanesia in Southeast Asia, and Calla's future is to follow in her footsteps.

But after the Victorian time traveler Jack Wragsland invites her to 1867 to show Charles Darwin what a real scientific revolution looks like, Calla returns to the 21st century to discover Jalanesia is no longer the country she knew. As she and Jack thread their way deeper into an interlocking maze of alternate realities, there always seems to be a second chance…until suddenly there isn't.

The only certainty Jack and Calla have as the universes change is each other. But if she can't learn to handle power wisely, then even love will not be enough to save Calla, Jack, or her country.
Sequela
Cleland Smith
Kester Lowe is the next big thing in viral fashion. For the price of a Brinkov suit you could be wearing one of his exclusively engineered STVs. And once you put it on, almost everyone will want you…

At least, that's the plan. When Kester infects Alexis Farrell with one of his signature viruses, showing her what he is capable of first-hand, she employs him to head up her new viral design department at technopharmaceutical giant V. Farrell will stop at nothing to make Kester a star, but not everyone is a fan. Those offended by what he represents, those he has betrayed, his own suppressed ambitions and forgotten promises – Kester is racking up enemies and they are about to come together in an attempt to destroy him.

Sequela is a solid debut from a fresh new voice in science fiction. Set in London in the 2080s, it follows the story of virologist Dr Kester Lowe as he rockets to fame as the first fashion virus designer. A potent mix of nanotechnology, terrorism and sexual politics.
Smokepit Fairytales
Tripp Ainsworth
Looking for something politically incorrect to read that will make you laugh, cry, and possibly vomit? Then this book is for you. Imagine if every smoke pit conversation and weird field talk you've ever had was taken and then cursed at for a few hours until it becomes print and you have this book. Like if your favorite war movies and science fiction books got drunk, had angry sex, and ended up with an unwanted pregnancy with a baby was known as Smokepit Fairytales.

A war story combined with the supernatural in the style of a classical epic to tell a snarky, uproarious, and very poignant tale mixed with an edgy Sci-Fi and fantasy twist to keep you guessing, this book defines the life of enlisted Marine in the most humorous messed up way imaginable.
The Solid-State Shuffle
Jeffrey A. Ballard
Almost a hundred years ago, a major terrestrial event reshaped the earth's coastlines. Goodbye entire cities. Goodbye entire states. Goodbye entire countries. And when the authorities outlawed salvaging from these sunken sites, why say hello to a new breed of criminal: underwater reclamation specialists. Even a hundred years later, there's still a whole lot of loot for the reclaiming.

But it's not theft if you put it back, right?

After cracking an underwater vault in their first major heist in the Seattle Isles, Isa and her crew think they're on easy street again—that is, if they can figure out what it is exactly they stole. A question, they soon learn, where their very lives hang in the balance.

Thrust into a high-stakes game of subterfuge and deception by the local mob boss, Isa and her crew must scramble to unravel the mystery of what is they stole while unseen forces move against them.

Harried. Threatened at every turn. Isa and her crew must stay one step ahead to stay alive.
The Star Collector
William Matthew
Space-sheriff Joe Corbit has just stumbled upon the greatest artifact in the history of the universe.

Too bad it's a threat to our very existence.

When a distress call leads Joe to the ruins of a lost, alien civilization, he finds an illegal archaeological dig underway. The Chinese Galactic Empire is working with the Martian mob to smuggle an artifact across state lines.

One deadly shoot-out later, and Joe finds himself in possession of the curious trinket. His plan is to auction it off to the highest bidder… until he finds out why the Chinese were after it in the first place.

They believe it to be an ancient super-weapon – and it has already sent one intergalactic alien species into extinction.

Joe has to fend off the powerful Chinese Space Fleet while trying to figure out how to deactivate the artifact.

Otherwise… it will be our turn to go extinct.
What a Piece of Work is Man
David F. Clark
By joining the grafters, Joaquin has become an outcast, part of a group distrusted and hated by the people of Laurim, the last vestige of humankind after the Days of Desolation. But the cybernetically-enhanced grafters have long been a necessary evil that bring stability to the fragile colony. Laurim is thrown into turmoil when news leaks that the recently-landed alien, the only other known life in the galaxy, has died under the care of the grafters. When Joaquin uncovers a conspiracy that would destroy the delicate balance of power, he must make a choice: Will he sacrifice his new identity among the non-grafters for the good of Laurim or will he remain silent? The stakes grow higher when a distress signal from Earth breaks over a century of silence. Are there really other humans left or is it a trick? As part of an envoy to Earth, Joaquin discovers nothing is as it seems, and the fate of not only Laurim, but of all of humanity rests on him forsaking his own humanness.