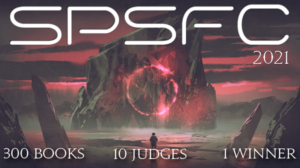 August 2021 marks the beginning of the first annual Self-Published Science Fiction Competition (SPSFC, sometimes affectionately known as "spacebo"), modeled after the highly successful Self-Published Fantasy Blog-Off (SPFBO). Three hundred entries are in–all self-published science fiction standalones or series-starters–ten judging teams are set, and it's time to begin reading.
Where do I come in? I've volunteered to lead one of the ten judging teams, where I will be joined by five other bloggers as we dive into the slush pile and find some hidden gems to share with the world. We'll get to reading soon, and the reviews will follow (along with a little bit more about the competition format). But first, let's introduce the team, in their own words:
Esme Weatherwax
Hi, I'm Esme!  I've been a big fan of self-pub/indie SFF for a while now, in no small part due to SPFBO and being introduced to books like Senlin Ascends. I've been a judge over there since year 4 (it's now year 7) and so when I heard "spacebo" was opening I was all for it.  I didn't expect to get picked but I'm super excited to be here. I blog over at https://weatherwaxreport.blog/.  I post about a smattering of things, but it's mostly SFF book reviews with the occasional tv/movie/video game review in the mix.  For reasons I can't explain, I tend to watch sci-fi while I generally read fantasy. However, I'm really excited to have a shift in pace and start reading more sci-fi over the course of this year. As far as genres and tropes that generally work well for me; I love first contact, mutants/genetic manipulation, anything to do with ecology or biology, ancient alien technology, and trippy/cosmic horror.  I'm super stoked to get started!!
Jeff Rutherford
I'm Jeff Rutherford. I've been recording the Reading and Writing podcast since 2009. I've interviewed many science fiction writers, but I also interview writers in other genres too – thrillers, mysteries, fantasy, etc. I'm 54. I live in Northampton, MA, and my two sons (13 and 17 years old) live with me half the time. I've been reading science fiction all my life since I first read Edgar Rice Burroughs Mars novels when I was a kid. I've really enjoyed many of the books in the Expanse series. I'm a big fan of Kim Stanley Robinson, and I really enjoyed Allan Steele's Coyote series. I'm looking forward to this contest and doing a lot of reading.
When I'm not reading or recording my podcast, I spend a lot of time doing CrossFit and running obstacle races. I've also been making quilts since 2002. You can find me on Instagram at @jeffrutherford.
Lilyn George
Lilyn George is a nonbinary reviewer and writer, who helps run the Sci-Fi & Scary website (www.scifiandscary.com). SF&S has made it a goal to support indie authors from the beginning, giving them a platform that often gets reserved for the bigger named traditionally published authors. When it comes to science fiction, their tastes run to hard sci-fi, military action, and sci-fi horror. Softer, character-driven sci-fi is something they enjoy on occasion but it must be exceptionally well-written. Most space operas and SF comedies will be yeeted into the sun.
Tracy Robinson
I am a horror reader and reviewer. I post reviews on Twitter, Instagram (both are @tracy_reads79) and Goodreads/Amazon. I review at least bimonthly for Sci-Fi and Scary and I have five (and more to come) published in Rue Morgue magazine. I am also a member of the Ladies of Horror Fiction team and I have reviews up on Horror DNA. I joined this contest with a couple of members of Sci-Fi and Scary. When it comes to science fiction, I prefer post-apocalyptic or sci-fi horror and shy away from anything overly technical or "hard sci-fi".
Bill Mangione-Smith
Jay Brantner
I am your host, the titular Tar Vol. Like Esme, I have been primarily a fantasy reader–though I watch plenty of sci-fi–but I've been expanding my reading lately and have found a lot of really fantastic science fiction, including several that don't get nearly the attention they deserve. I particularly enjoy the cultural clashes that you may find in multiverse or first contact stories, but I'm pretty flexible as to subgenre if I can find some well-drawn characters and/or interesting concepts. I do dislike technobabble, and I also don't tend to enjoy wall-to-wall action, so marketing a book as a thriller is a red flag in my book, although not an insurmountable one.
I discovered self-published fiction through the SPFBO, reading the winners three years running (which range from quite good to outstanding) and finding some of my best reads of the last few years among books that fell in the semifinals. I'm excited to discover even more hidden gems in the SPSFC and to work with four new blogger friends, plus the brain behind perhaps my favorite blog for discovering indie speculative fiction (thanks, Esme!). I blog here, and I'm also very active on both Twitter and Reddit under the name tarvolon, and on Goodreads under my own name. When I'm not reading, I'm probably hanging out with my wife and three little ones, watching hockey, or watching/playing one of my three favorite sports that are called "football."