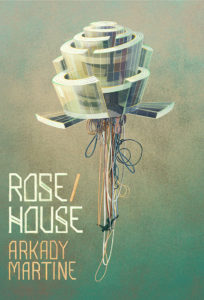 This review is based on an eARC (Advance Reading Copy) provided by the publisher via NetGalley in exchange for an honest review. Rose/House will be released on March 31, 2023.
It's safe to say that Arkady Martine has exploded onto the scene, at least in the corners of genre fandom that saw her win Hugo Awards for both her first and second novels. I enjoyed A Desolation Called Peace enough to have it atop my own ballot last year, so I didn't have to spend too much time convincing myself to pick up Rose/House, her new sci-fi mystery novella. 
Rose/House has a fairly straightforward setup as a locked room murder mystery, with an AI providing the sci-fi wrinkle. A smart house reports a dead body on the premises. That's surprising, because it is locked tight against anyone but its late architect's former protégé—it won't even open to allow the local police to conduct an investigation. And so they must enlist the help of the only one who can get inside and get to the bottom of the mystery. 
One danger of reading a book before it's widely reviewed is coming in with serious misconceptions about what to expect. On paper, Rose/House offers a fairly straightforward locked room murder mystery with a sci-fi twist. But as the story progresses, it becomes clear that the murder mystery is just an excuse for a beautiful and dreamlike series of musings about identity, personhood, and fraught mentorships. The identity of the dead man is hardly important, and the circumstances of the death matter more in how they made the house feel than in how he came to die. 
Ultimately, it's more of a fever dream than a murder mystery. And I'm never quite sure what to take away from books that feel like fever dreams. The prose is beautiful, and there are so many passages ready to mine for reflections on personhood, self-deception, hero worship, and unhealthy mentor/student relationships. But at the same time, it never really feels like a cohesive whole, and two weeks after finishing, I don't even remember whether they actually identified the murderer. It's easy to say that it's just not that kind of story, but I also tend to enjoy books more if I have something to hang onto at the end. 
For me, that comes out to something in the 3.5-star vicinity, but the numerical rating is less important here than making clear what sort of book to expect. Come here for prose, come here for philosophizing, come here for a fever dream. Just don't come looking for a locked room mystery. Because at heart, that's just not what this book is. 
Recommended if you like: fever dreams, beautiful prose, musings on identity and toxic mentorships. 
Can I use it for Bingo? Only if you have an ARC or read it literally the day it comes out. It's hard mode for Standalone, Mental Health, and No Ifs Ands Or Buts. And there will be a new Bingo released April 1.
Overall rating: 14 of Tar Vol's 20. Four stars on Goodreads.