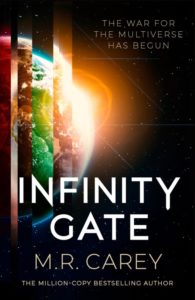 This review is based on an eARC (Advance Reading Copy) provided by the publisher via NetGalley in exchange for an honest review. Infinity Gate will be released on March 28, 2023.
I've read a fair few multiverse stories lately, but well…I have a soft spot for multiverses, and M.R. Carey is an author who has been recommended to me many times over the last few years—apparently, The Nothing Within, which I loved, has some similarities to his Rampart Trilogy. So when I had the opportunity to get an ARC of Infinity Gate, I jumped at the chance. 
Infinity Gate is told by a mostly-anonymous figure born during a multiversal war between organic peoples and AIs, describing three pivotal figures who changed the course of worlds. There are two humans—a scientist out to save her dying world, and a rogue out to grab a better life than the poverty of his youth—and an adolescent leporine, all of whose stories are inextricably entwined with the biggest conflict in known history. 
Infinity Gate, despite being science fiction rather than my usual fantasy, has the unmistakable feel of an epic's opening act. There's enough character development and intermediate action to justify its existence as its own book, but make no mistake, there are no wars ended here. Infinity Gate is all about introducing the characters and the world, setting up the conflict, and pushing the pieces into place for the broader series arc. 
And as an epic opener, it's pretty successful. Job #1 is making the overarching story compelling enough for a reader to commit for the long haul, and Infinity Gate has absolutely no trouble with its first task. The cast is small enough that a single book can deliver a fairly intimate portrait of every main character, and each is intriguing enough to carry their own weight. There are certainly moments where I'd have liked to hear updates on how the others were doing—especially when each main character gets a stretch of around 100 pages of mostly-uninterrupted spotlight—but there was no moment where I felt one character was dragging and the others were carrying the story. 
Whenever I see a blurb with a multiverse, I expect a lot of time spent exploring how differently the world could have gone. And while Infinity Gate doesn't entirely shirk this task—there are many worlds dominated by people who didn't descend from primates, and relatively few where the peoples of the Global North colonized those of the South—it's eminently clear that the multiverse is more backdrop than star. There are few Tchaikovsky-style explorations of how the world would be organized under different dominant species, with much of the multiverse instead homogenized by the worlds-spanning empire of the Pandominion. It is this empire, its clash with a second multiversal empire made entirely of machines, and its encounters with the three lead characters that drive the story's plot. 
And it's a plot that I found pretty hard to put down. The diverse main cast gives us glimpses into the wonder of scientific research, the horror of the Pandominion's military, and the difficulty of a society wrestling with its own machine dependence in the light of the existential threat posed by a newly discovered mechanical race. Each element has plenty of time to breathe, but none feels extraneous—it's all driving toward the conflict at the heart of the overarching trilogy. And even if Infinity Gate leaves most of the big questions unanswered, there's still enough emotional payoff to justify the investment. It's not one to stop in what feels like the middle of a chapter. 
I'm not sure there's a single element here that makes Infinity Gate a must-read, but with so many ingredients combined so skillfully, I wouldn't miss it for fans of SFF epics. I haven't had this much fun with an opening act since Senlin Ascends. 
Recommended if you like: epic sci-fi/fantasy. 
Can I use it for Bingo? It's hard mode for Mental Health, and I vaguely recall a non-wolf Shapeshifter. It's also Set in Africa, written by an Author Using Initials, has No Ifs Ands Or Buts, and an Anti-Hero. 
Overall rating: 18 of Tar Vol's 20. Five stars on Goodreads.