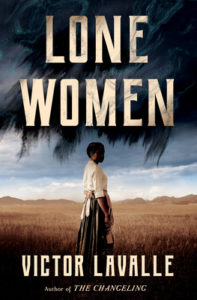 This review is based on an eARC (Advance Reading Copy) provided by the publisher via NetGalley in exchange for an honest review. Lone Women will be released on March 28, 2023.
Though he's primarily a horror writer and I'm not primarily a horror reader, I was really impressed with the first two books I read by Victor LaValle. So when I saw that his next novel was a blend of horror with historical fiction, I didn't pause more than a second before putting it on the TBR, despite a subgenre combination far outside my wheelhouse. And Lone Women didn't make me regret it for a second. 
While the narration periodically skips to side characters to deliver larger context, Lone Women is primarily the story of Adelaide Henry, an early 20th century Black farmer who flees to Montana for a fresh start after the unnatural deaths of her parents. But homesteading near the Canadian border is much more dangerous than she'd been led to believe, and it's hard to make a fresh start when she travels in the company of the enormous steamer trunk containing her most deadly secret. 
It's part homesteading novel, part Gothic horror; in the hackneyed "X meets Y" style, you could call it a cross between Laura Ingalls Wilder and Edgar Allan Poe—but Black!—and get pretty close. And like everything else I've read by LaValle, it's utterly gripping. The tension is set from the start, with Adelaide fleeing a bloody family farm with little more than the clothes on her back, a handful of cash, and trunk that must under no circumstances be unlocked in the presence of anyone but herself. The promise of a monster and the mystery of its nature keeps the reader on the edge of their seat, and the atmosphere is only heightened when the Montana snows sees Adelaide woefully unprepared and in need of neighborly assistance just to survive. 
It's possible that a novel of only 300 pages could sustain that unrelenting tension for its entire length, but Lone Women instead takes a breath in its second act. The same dangers still exist, and both the readers and the characters know they can't be ignored forever, but they briefly fade deeper into the background while the novel fleshes out the setting and some of the side characters. 
And while LaValle writes well enough that I enjoyed the less intense sections of the story, there were times that I worried it was just a way to stretch a scant story into the length of a novel. I really shouldn't have. As the book nears its close, the dangers come rushing back to the forefront, and nearly every digression from the first two-thirds of the story sets the stage for another element of a finish that pulls together more subplots than I would've thought possible. There's a story of redemption, of friendship, of family, of wealth, race, gender and historical erasure, and—not to be forgotten—of monsters. It's tense, it's thrilling, it has thematic depth for days, and no character is given short shrift. 
It's difficult to pull so many subplots together and maintain the kind of tension that drives a Gothic horror novel, but Lone Women did so admirably. There was perhaps one short scene that I had to read twice to understand how it fit into the whole, but everything else was nearly perfect, with each individual subplot adding not merely to the depth of the theme or the cast, but coming together to build the kind of momentum that creates an ending that is absolutely impossible to put down. 
Lone Women is a novel that checks all the boxes. It's compact and poses little barrier of entry, while delivering great characters, thematic depth, and plenty of scares. As someone who doesn't read much Gothic horror, I was hooked by the immediate tension, but even more so by how much the book had to offer beyond just atmosphere. It's safe to say that my impulse to keep reading LaValle has been rewarded, and as the first book I read in 2023, it set an incredibly high bar for the rest of the year to follow. 
Recommended if you like: Gothic horror, frontier settings. 
Can I use it for Bingo? It's hard mode for Historical SFF and Standalone and is also written by a BIPOC Author, contains No Ifs Ands Or Buts, and where Family Matters.
Overall rating: 18 of Tar Vol's 20. Five stars on Goodreads.