After whittling our initial 30-book allotment down to three, my SPSFC team has received six more semifinalists from other judging teams. Our scores of these six new books, along with our original three semifinalists, will combine with with 81 other scores (nine each from nine teams) to determine the SPSFC finalists.
Each of the six books we're reviewing this round comes with a recommendation from another blogger judging this competition, and almost all of them come with multiple strong recommendations from members of their first-round judging team. So keep in mind when you read our reviews that they are only our own thoughts, and they do not exist in a vacuum.
Finally, before I move to the scores themselves, I want to offer some candid comments about this competition so far. My teammates have been wonderful to work with, but it sometimes seems as though there's an unwritten rule that we cannot be permitted to agree on anything. Of the sixteen books we've read to completion across the quarterfinals and semifinals, fourteen of them have received a low score or a DNF from at least one team member–even though almost all of those fourteen have earned hearty recommendations from another teammate. As a result, our mean scores have fallen significantly short of our median scores. Now it would be unfair to books we've previously judged to change our scoring system in the middle of the competition (though there will be plenty to reevaluate for next year), so the official scores stand. But I want to highlight that one or two readers not meshing with a particular writing style or subgenre can really harm a score, and that does not mean the book is not worth reading. So while the score matters for the competition, it's the reviews that should be your guide as you determine whether or not a particular book may be worth a look. Because one reader's hard stop may be another reader's favorite element.
Today, we look at Malcolm F. Cross' Dog Country, a deeply psychological novel about genetically engineered soldiers whose first-round team gave it the highest score in the competition to date!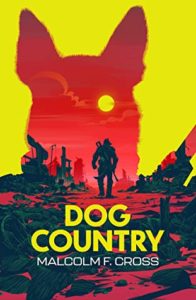 Jay's Review and Rating
Overall, the feeling of discontinuity between the two main plot threads keeps me from making this the first five-star book of my SPSFC judging tenure, but the outstanding work building such a fascinating lead character makes it my clear favorite of the first two rounds. The plot-light opening and intense examination of the trauma of war will doubtless be a turnoff to some readers, but I sincerely hope it finds enough fans among other judges to send it to the finals, and that its SPSFC performance finds it some fans outside the competition as well.
Jay has rated Dog Country 8/10. For more detail, check out his full review.
Esme's Review and Rating
The overarching tone of the book was almost clinical and detached. I'm not sure what the correct word for it is, but it has a need-to-know minimalistic approach that you sometimes get when interviewing military personnel. I felt the prose fit the theme and tone well. I wouldn't say there was anything flourishing about this prose style, but it fit the bill and helped highlight the brutality of war. Things were stated as facts and without a ton of emotional response from the MC, so it left the reader to be moved both by what happened and the MC's reaction to it — or really, the lack thereof when exploring neurodivergent characters and how they navigate highly emotional events. All in all this was quite the experience and I'm glad I read it.
Esme has rated Dog Country 8/10. For more detail, check out her full review.
Lilyn's Review and Rating
Sometimes you just don't click with a book. It can be a subgenre you like, it can have ideas attached to it you haven't read much of before, and yet for a variety of reasons it doesn't work for you. That was the case with Dog Country. I failed to care about the characters even a little bit, and thus couldn't get behind a story that's strongly character-driven. The multiple E-named characters did not help matters. There's a reason authors are told to shake up character names. A good reason. The writing style bored me. The game that they had going on did nothing for me at all. It got to the point that I actively dreaded each time I had to pick up this book and when you hit that point, it's time to give up on a read. Objectively even though what I read did have some issues, this is mostly a case of it REALLY being the wrong book for the wrong reader rather than a case it just being a horrible book.
Lilyn has rated Dog Country as a DNF.
Tracy's Review and Rating
I really loved the character of Edane. I'm a sucker for great character work and not so much military stories, so this evened things out for me a bit. The timeline switches and POV switches were just okay for me and I found myself liking the character-driven first part of the book much more than the war-focused last bits.
Tracy has rated Dog Country 7/10.
Official Scores
| | |
| --- | --- |
| Jay | 8* |
| Esme | 8 |
| Lilyn | DNF |
| Bill | 7 |
| Tracy | 7 |
| Team | 6.67 |
*indicates judge's top book read in the first two rounds of SPSFC judging.