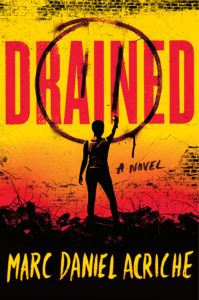 Drained is another entry in the first annual Self-Published Science Fiction Competition. It produced some division in the extended preview that we used as a first cut, but I found the writing to be smooth and the early tension to be well-built, and I was intrigued to see whether Marc Daniel Acriche's debut would build beyond the basic YA dystopia. 
Drained takes the reader to 2048 New York City, with environmental disasters having hammered the infrastructure and the fascist Independent Coalition Party and their increasingly powerful military arm on the ascendancy. But when high school student Casey Parker is told that her friend Martin—disappeared, without a trace—has voluntarily become an ICP Recruit, she can't take them at their word. And her investigation uncovers secrets that the ICP will stop at nothing to keep. 
The strengths of Drained are fairly evident from the beginning. It's easy to sink into Casey's perspective, the stakes start high and don't lessen, and the prose flows easily, allowing the story underneath to shine. But there were also early red flags that had my SPSFC judging team on the fence about continuing. The setup didn't offer anything beyond the standard YA dystopia, and the direct writing style didn't have the stylistic flourishes to add value behind simple readability. I read on in hopes that the strengths would develop into something deeper but with concern that it could settle into a generic dystopian thriller plot. 
Unhappily for me, Drained went the thriller route, and it didn't offer much hook to keep me particularly invested in all the twists and turns. The villains seek power and are willing to employ unsavory methods to further their ends—not unrealistic, but also not surprising or especially engaging. The heroes commendably struggle against fascism, but it's fairly clear based on how many pages remain which of their schemes will succeed and which will fail, robbing the tension required to power a thriller plot. And, while Casey gets sufficient development, many of the side characters run together, not generating the emotional attachment that could stand in the gap to buttress a predictable main plot. In fact, one important (in narrative weight, not necessarily in page time) side character disappears entirely for the final 20%, failing to resolve one of the more interesting secondary plot arcs. 
To someone without a lot of genre-savvy, the smooth writing style, immediate investment into the main character, and high stakes throughout the book may make for a quick and entertaining read. But as a veteran reader, too many plot elements were predictable, and the secondary characters weren't developed well enough to keep me invested without significant plot-driven tension. 
Recommend if you like: straightforward YA dystopian thrillers.
Can I use it for Bingo? It's hard mode for Self-Published and Published in 2021, and it is also a Debut (which makes it almost certainly a New-to-You Author). 
Overall rating: 10 of Tar Vol's 20. Two stars on Goodreads. 
SPSFC Score: 5/10 for my personal score. We will await ratings from the remaining judges before releasing an official team score.