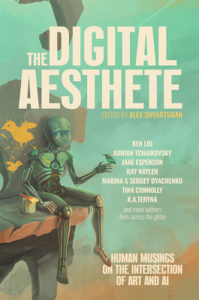 This review is based on an eARC (Advance Reading Copy) provided by the publisher via NetGalley in exchange for an honest review. The Digital Aesthete will be released on November 14, 2023.
I haven't read much of Alex Shvartsman's work as an editor, but I've enjoyed a bit of his translated short fiction, and I've been impressed with his efforts to bring international authors to American genre readers. So when I saw that he was publishing a themed anthology on art and AI, with contributions from Adrian Tchaikovsky, Ray Nayler, Ken Liu, and Marina and Sergey Dyachenko, I couldn't hit the "request" button fast enough on an ARC of The Digital Aesthete: Human Musings on the Intersection of Art and AI. 
The Digital Aesthete features 17 stories by 17 different authors from across the globe, with ten originally written in English and seven translated from other languages. Sixteen of them are roughly short story length, with two or three coming near the boundary between short story and novelette (normalize publishing word counts!) and one short novella serving as the anthology's extended capstone. Each one considers the themes of art and AI, with the expected smattering of fiction-writing language models joined by tales of virtual reality, AI art critics, and even one AI comedian. 
Ordinarily, if I pick up an anthology with 15-20 stories, I'm hoping to find about three that really impress me, hopefully supplemented by a lot more that are enjoyable and no more than a couple that I have to slog through. Any additional benefit from the act of anthologizing—resonance between stories, tales in conversation with each other, etc.—is purely a bonus. 
The Digital Aesthete exceeded my expectations on almost every count. I found five stories to love, with the other twelve almost all coming in various shades of good. Only one–Vajra Chandrasekera's reflections on Blade Runner and Do Androids Dream of Electric Sheep? folded into a predictably disorienting main narrative in "The Mercer Seat"–proved a struggle, and that may be due in part to me having relatively little familiarity with the source material. My worries that a collection of nothing but AI art stories would start to feel a bit repetitive dissipated fairly quickly as I began reading. While many authors did choose to tackle the topic of language models writing fiction, they offered such a variety of approaches on the subject that I never felt like I was reading a collection of variations on a theme. This was not an anthology either feting generative AI or raising the alarm bells, but a group of authors from across the world providing a variety of perspectives in an even wider variety of stories, from those explicitly focused on contemporary problems to those relegating the anthology's theme to background setting or supporting piece to a more human story. 
Even limiting to my list of favorites, the stark disparity between different approaches was undeniable. Adrian Tchaikovsky opens the anthology with a straightforwardly topical tale—"Silicon Hearts," available online in a free preview of the anthology—of humans fine-tuning language models to make as much money as possible writing fiction. It's a short piece, but it's set apart by the humor suffusing the entire story, along with a clever ending that makes it something more than sheer satire. H. Pueyo, on the other hand, takes a different tack with "Torso," telling of an abuse survivor working feelings of fear, anger, and shame into grotesquely beautiful ceramics. In this story, the AI is not itself a creator, existing rather to buttress her lost dexterity. But it cannot help but try to spur her forward, in a piece as memorable as it is intense. 
Changing gears almost entirely, Auston Habershaw writes a surprisingly poignant piece about an AI comedian, trained on the last generation of human comics, trying to figure out why one of the regulars keeps coming back if she isn't going to laugh. "The Laugh Machine" certainly brings a chuckle or two, but it's the heart underneath that makes it worth the read. Then Ray Nayler's "Hermetic Kingdom" sets the AI theme almost entirely aside, returning to the world of the acclaimed "Winter Timeshare" for a story about the consciousnesses of the dead working alongside bots to run virtual reality games and simulations. Like so much of Nayler's work, it focuses on human cogs in the machine and their efforts to make the best they can with the hands they're dealt. And like so much of Nayler's work, it's excellent. 
My favorite of the translated works, and one of my favorites full stop, is the anthology's extended capstone: "Prompt" by Marina and Sergey Dyachenko, translated by Julia Meitov Hersey. The premise isn't especially audacious—an ambitious young director tries to put on a show for the notoriously critical AI theater Prompt—but the story is intense. There are a lot of people who don't want the lead to succeed, and the price of failure may be the end of a promising career. It certainly touches on some important themes regarding the calcification of trends with machine learning, but mostly it's just a wonderfully well-told and gripping story. 
While those are my favorites, they aren't the only ones worth reading in the anthology. Jane Espenson's "Forgery" sees a drone become a master forger and build an entire criminal empire, and Ken Liu's "Good Stories" provides perhaps the most direct engagement with the main theme of the anthology in its exploration of AI content mills. Both very much worth the read, even if for different reasons. In contrast, Tina Connolly's "Stage Shows and Schnauzers" leans into the fun side of things, to great effect. 
For all that Chandrasekera's idiosyncratic blend of weirdness and pop culture references didn't really work for me, I wouldn't say there's a bad story in the whole collection. In general, it ranges from good to great, with "not really for me" the harshest evaluation I could give any of the 17. With the exception of "Prompt" and "Torso," I did find myself connecting a little less to the works from outside the Anglosphere, but that's not especially surprising when reading outside one's comfort zone. And if my foray into stories from well outside my own cultural context produces a handful of solidly enjoyable 3.5-star pieces and a pair of favorites, I'd say that's a wildly successful foray. 
In my eyes, The Digital Aesthete is really only missing a show-stopping, "drop everything and buy this anthology just to read this one work" sort of story. Of course, those are few and far between, so it's hard to complain too much about the lack. Instead, it gets by on depth and breadth, with more than its fair share of five-star entries and fewer than its fair share of misses. Combined with a table of contents that spans the globe and a theme that's deeply relevant but never devolves into repetitiousness, the result is a fantastic anthology that's well worth seeking out for fans of sci-fi that feels deeply grounded in the real world. 
Recommended if you like: near(ish)-future sci-fi, AI stories, stories about art. 
Can I use it for Bingo? It's clearly hard mode for Five Short Stories and is Published in 2023 by an Indie Publisher. There are also quite a few stories that Feature Robots, so I'd say it's fair to use the anthology for that square as well. 
Overall rating: 17 of Tar Vol's 20. Five stars on Goodreads.