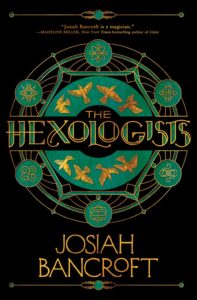 This review is based on an eARC (Advance Reading Copy) provided by the publisher via NetGalley in exchange for an honest review. The Hexologists will be released on September 26, 2023.
Josiah Bancroft was perhaps the first breakout star of the Self-Published Fantasy Blog-Off (SPFBO, elder sister to SPSFC), parlaying Senlin Ascends into a four-book deal with Orbit to complete Senlin's story in The Books of Babel. Given that I consider The Books of Babel some of the best and most creative fantasy of the last few years, his next book was always going to be one of my most anticipated of the year. Well, The Hexologists is finally here, and it's a good one. 
The Hexologists follow a married couple, Warren and Isolde Wilby, who use Isolde's skills with hexing and the vast cache of magical artifacts left after her father's death in their work as freelance detectives. So when the king tries to climb into a lit oven following the receipt of a letter from someone claiming to be his bastard son, the crown's obvious course of action is to seek help from the Wilbys. 
What follows is something of a traditional fantasy mystery, written in an aggressively whimsical style that calls to mind the classics much more than the more colloquial narration of contemporary speculative fiction. If it's even vaguely magical—ghouls, dragons, portals, magic swords, even an eldritch abomination—it has a place in the world, and life-or-death struggles are often interrupted by any anecdote from the character's past with even a shred of relevance to said dire straits. 
This will all be familiar to readers of The Books of Babel, which were written with a similar throwback prose style and were riddled with narrative asides and general whimsy—though the Tower of Babel setting leaned a bit more to the Kafkaesque. It worked beautifully there, and it's just as much a pleasure to read here. And while the leads are very much different than the rigid schoolmaster Thomas Senlin, War and Iz make for an entertaining pair to place at the heart of the story, and it's refreshing to see a relationship that provides lots of support and minimal drama. 
I'm far from a connoisseur of mystery novels—in fact, I'm vocally a little bit tired of them—but Bancroft lays out the pieces very nicely as the book progresses. So many speculative mysteries hold back clues until the final reveal and make it impossible for the reader to truly follow along, but The Hexologists puts them all on display and dares the reader to take a break from the amusing interjections and put them together. The inevitable feints always leave a final piece out-of-place, making it all the more satisfying when the final solution pulls it all together. 
But even though the mystery comes together nicely, and even though the individual scenes were lots of fun, it was still a novel that left me with the feeling that something was missing. Though I can muster several half-criticisms, it's hard to put my finger on exactly what it lacked. Perhaps it's just the comparison to The Books of Babel, an astoundingly high bar to expect a new release to clear. Perhaps it's a book that had so much fun with individual scenes and interjections that it made it easy to miss the forest for the trees. The overarching plot was still there, but there were times where I struggled as a reader to zoom back out of the small-scale happenings and place them in the larger context. If this is all that's bothering me, it should result in a book that's even better on reread than it was initially—provided I can ever find time to reread it. But perhaps it wasn't that at all, and my issue was the Wilbys having a magical artifact for seemingly every occasion, making it hard to really worry when they found themselves in mortal peril. Or having an ending that left potential antagonists to deal with in future installments. Neither would be especially unusual among magical mystery novels, but it may be more of an issue for me reading outside my usual subgenre than it would for regular readers of fantasy mysteries. 
But whatever my complaints, The Hexologists still made for a really good book that was a lot of fun to read. The characters were endearing, the mystery came together nicely, and the storytelling was a delight. It doesn't quite hit my "favorite books of the year" list, but it's unusual to see a fantasy mystery hitting those heights; for readers who enjoy speculative mysteries but aren't tied to a noir style or 21st century urban fantasy trappings, The Hexologists could well be a new favorite. 
Recommended if you like: fantasy mysteries, throwback prose with plenty of asides, general whimsy. 
Can I use it for Bingo? It's hard mode for Title With a Title and is also Published in 2023 and Features Mythical Creatures. You may also use it for Mundane Jobs, depending on whether you emphasize the "magic" or the "detective" part of "magic detective." 
Overall rating: 16 of Tar Vol's 20. Four stars on Goodreads.