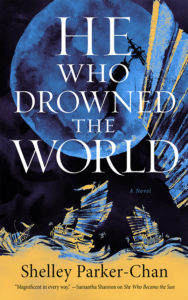 This review is based on an eARC (Advance Reading Copy) provided by the publisher via NetGalley in exchange for an honest review. He Who Drowned the World will be released August 22, 2023. 
She Who Became the Sun, Shelley Parker-Chan's fantastical retelling of the rise of the Ming dynasty in China, was one of the buzziest books of 2021 and impressed me enough to land in the top third of my Hugo ballot. So the question wasn't whether I would read the second half of the duology in He Who Drowned the World, just how soon I could get ahold of it. 
[Note: He Who Drowned the World picks up shortly after the events of She Who Became the Sun and is impossible to review without referencing the general lay out the land at the end of the first book, though as always, I try to avoid specific spoilers.] 
She Who Became the Sun was the story of Zhu Chongba, who stole her brother's fated greatness and rose from starving, unwanted daughter to male-garbed monk to leadership within the Han rebellion against their Mongol overlords. But a secondary lead character was General Ouyang, a eunuch leading Mongol forces while biding his time to execute his revenge against those who killed his family and mutilated his body. He Who Drowned the World follows both characters, while adding a third major perspective character in Wang Baoxiang, a schemer whose power comes from his facility with account books and not with the sword. This may be Zhu's duology, but it is Wang Baoxiang's book. Finally, Madam Zhang rounds out the cast with a fourth major perspective character, alternately ally and enemy of the others as she uses the richness of her land and the military prowess of her lover to try to carve out as much power as she can. 
The first book was an exploration of Zhu and Ouyang's experiences of gender in a patriarchal society as much as it was anything else, with the political scheming staying mostly on the surface and the fantasy elements limited to an ill-explained Mandate of Heaven and an occasional ghost sighting. And book two certainly still has plenty to say about gender, with none of the four major perspective characters fitting the stereotype of traditional male leader, but it greatly expands the scheming and the fantasy elements. In many ways, it's driven by the family ghosts—real and perceived—tormenting General Ouyang and Wang Baoxiang as they spiral farther and farther into their own internal abyss. 
Make no mistake, this book is a train wreck, and it's meant to be. Ouyang can fight, and Baoxiang can scheme, but their darkened and darkening minds lead them to destructive choices at nearly every turn. Their motivations are entirely explicable, and the combination of prowess within their own spheres and the torment of their pasts make for fairly compelling train wrecks. But there is little light to be found here. 
Perhaps my biggest criticism concerns that little light that can be found. In the first book, Zhu Chongba proved to be as ruthless as anyone. And yet, she still fills something of a heroic role, seen by her followers—and to some extent, the narrative itself—as representing a hopeful alternative to the others struggling for power. And undoubtedly, she has a level of humility not shared by her rivals for power. But nevertheless, there were times I felt the narrative saw her as something more than she was. 
One element of the first book that carries forward into the second is the inclusion of remarkably detailed sex scenes from the perspective of characters experiencing little-to-no sexual desire for their partners, though in He Who Drowned the World, it isn't contained to one scene. It's a fairly horny book, but with almost none of that horniness derived from the appetites of the perspective characters. These scenes run the gamut from entirely consensual to entirely nonconsensual, with a fair bit of ambiguous in-between, and the way the characters use their bodies in pursuit of their aims—and the ways this affects external perception—serves as a significant minor theme throughout the novel. 
On the whole, it's hard for me to imagine a fan of She Who Became the Sun not also loving He Who Drowned the World. The weaker scheming and fantastical subplots in the first book are buttressed in the second entry, but with no loss to the major theme of people striving for power in a society that scorns their failures of masculinity. There's darkness aplenty, but none of that is new to a fan of the first book. There are times where I felt the narrative read the lead more optimistically than it should have, but there was enough excellent character work that this misstep was far from a deal-breaker. 
Recommended if you like: exploration of gender in a patriarchal society, epics, train wrecks, She Who Became the Sun. 
Can I use it for Bingo? It's hard mode for Myths and Retellings, in addition to being a Sequel that is Published in 2023 by a POC Author.
Overall rating: 17 of Tar Vol's 20. Five stars on Goodreads.