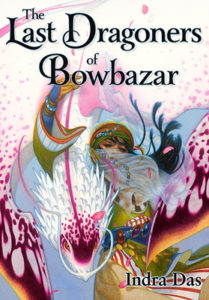 This review is based on an eARC (Advance Reading Copy) provided by the publisher via NetGalley in exchange for an honest review. The Last Dragoners of Bowbazar will be released on June 1, 2023.
I've been hearing about Indra Das for a while, but not enough to push him to the top of a crowded TBR. But when a new release novella (not from Tordotcom!) started getting acclaim from bloggers I follow, I figured The Last Dragoners of Bowbazar would be the perfect opportunity to give his writing a try. 
The Last Dragoners of Bowbazar follows the son of dragon-riding nomads from another world, growing up in Calcutta with little knowledge of his family's homeland. There are hints and fragmented memories, but not enough for him to be confident in their reality, let alone make rejoinder to the boys at school who mock him for being "the snake from nowhere." He has no grand quest, simply a desire to understand his heritage and build relationships with friends and family, despite being hampered on both sides by his awkward position between two worlds. 
When I see a secret world of dragon-riders in the blurb, I expect a fantasy adventure. This is not that. Instead, it's a touching coming-of-age novella in a setting suffused with magic, but where the magic is decidedly not the point. There are oblique references to war, danger, dragon-riding empires and interdimensional travel, but it's all backstory. The point is the lead struggling to live as a second-generation immigrant, disconnected both from the world of his family and the world he lives in. 
It's a short novella, and the length is appropriate for the small-scale of the story, which moves through the lead's adolescence and into adulthood without a driving plot, dwelling here on memories of his family's magic and a house full of relics, there on a fumbling romance with another neighborhood immigrant and the clash between gender expectations in his ancestral land and his current one. There is certainly character growth, and too satisfying of an ending for me to call this a "no plot, just vibes" tale. But the vibes are undoubtedly a big part of the draw. The prose is excellent, and mostly invites the reader to sit with the lead in his discomfort and uncertainty. 
But for all the discomfort, it's not a story without hope. As the lead grows up, he learns more about his family and their reasons for secrecy, and a strong friendship outside his household both succors and sharpens him. It's not that it erases the sense of dislocation so much as allows him to understand it and choose how to respond—a more grounded story than the magical setting suggests. His family's flight across dimensions may be unique, but the challenges he faces are more those of the second-generation immigrant than the dragon-riding fantasy hero. 
On the whole, The Last Dragoners of Bowbazar is slow-paced but beautifully written, eschewing an adventure plot for an intense character focus. Those who enjoy coming-of-age stories and characters trying to reconcile the differences between the world of their family and the world of their peers are in for a treat. 
Recommended if you like: magical realism, coming-of-age, immigrant stories. 
Can I use it for Bingo? It's hard mode for Novella, Indie Published, Literary SFF/Magical Realism, Title With a Title, and Multiverses, and it's also a 2023 Release by a POC Author featuring Mythic Beasts. 
Overall rating: 17 of Tar Vol's 20. Five stars on Goodreads.