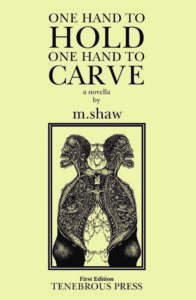 I'm not usually much of a horror fan, but M. Shaw caught my attention with their unsettling short story "Man vs Bomb"—one of the best I read in 2021—and the premise of their weird horror novella One Hand to Hold, One Hand to Carve was intriguing enough for me to close 2022 by taking a step outside my comfort zone and giving it a read. 
One Hand to Hold, One Hand to Carve opens with two halves of a cadaver waking up on a mortuary slab with absolutely no knowledge of their past lives or how they came to be in such a state. They hobble off together to try to piece together a life, but it turns out that they have very different opinions about what constitutes a good life, setting them on a path to inevitable conflict. 
While there's certainly a fair bit of bodily fluid spilled in the early going, One Hand to Hold, One Hand to Carve doesn't fit my stereotype of a horror story (admittedly, a stereotype developed as an outsider to the genre). The matter-of-fact, decontextualized setup does eventually yield to some macabre dark folklore that buttresses the main story, but the heart of the novella consists in an exploration of the toxic relationship between the two half-persons introduced at the beginning. 
And it's a pretty compelling portrait of a toxic relationship. Perspective from both characters allows the reader a complete picture of just how the fraternal relationship becomes intractable, and while the lion's share of the blame falls on one side, there are plenty of chances to push for resolution that are ignored in favor of the short-term veneer of peace, leading ultimately to a situation poetically described here: 
And the thing about walking on eggshells, no matter how hard it is at first, even if you're doing it one-legged? It's that if someone can get you to do it all the time for long enough, you start to just call it walking. You forget the eggshells are there, because they're always there. You start to think it's just the way you move through the world, the way everyone moves through the world. If anything, what you think you need is to train yourself out of resenting it.
Though there are certainly bursts of the poetic, it's generally written with a spare prose style that doesn't go out of its way to ornament the plain facts of the situation, instead relying on the details of the dynamic between the main characters to provide the punch. This keeps the tale compact enough that the main theme never has time to overstay its welcome, but the storytelling is more interesting than engrossing, providing a deep and nuanced look into the primary relationship without ever being the sort of tale you lose yourself in. 
Overall, it works well as a character study, and the dark folklore that initially seems a strange tangent ultimately integrates well into the story. It's not a novella that's quite as gripping as the short that inspired me to read more of Shaw, but it's well worth a read for anyone interested in the portrayal of how relationships go bad, even those who aren't usually horror fans. 
Recommended if you like: weird horror, dark character study. 
Can I use it for Bingo? It's hard mode for Standalone, Mental Health, and No Ifs Ands Or Buts. It's also Indie Published by an Author Who Uses Initials, features an Antihero, and Family definitely Matters. 
Overall rating: 15 of Tar Vol's 20. Four stars on Goodreads.