My judging team in the second annual Self-Published Science Fiction Competition (SPSFC2) has sampled all 28 books in our first round allotment and narrowed them down to eight quarterfinalists for the entire team to read in full. Our next step is to score those eight quarterfinalists and select three semifinalists to send to two other judging teams for further reading and one more round of cuts before the finals begin in May.
As you read our quarterfinal reviews, keep in mind that all of us have our own idiosyncratic tastes, and a book hitting for one of us doesn't mean it will hit for all of us. On the other hand, a book missing for one of us doesn't mean it's not well worth reading, and every entry that's made it this far has earned at least one of our recommendations.
Today, we'll be discussing our third hand-picked semifinalist, Carmen Loup's audaciously zany comic space opera The Audacity.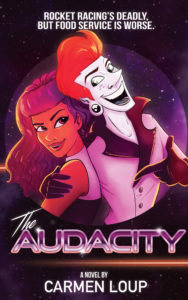 Jay's Review and Rating
The Audacity shows some real flashes of brilliance that make it easy to see why two of my teammates have rated it so highly. It's consistently amusing, and the day-to-day hijinks of May and Xan are pretty darn lovable. But I saw the whole as more of a mixed bag, with my interest dropping when we left the main pair, and with the story's biggest moments failing to capture the magic of the ordinary ones. It won't be my pick to top the group, but there's still plenty to recommend, and there are a fair few readers out there who I expect to adore this lighthearted space romp.
Jay has rated The Audacity 6.5/10. For more detail, check out his full review.
Josh's Review and Rating
You're not reading this type of book for great characters, although they are all highly enjoyable, you're reading this type of book for the fun and amusement and the situations and language jokes and just everything of The Audacity is well: fun. It's not really the type of book that will make you laugh out loud super often if at all, but you'll constantly be smiling and enjoying, and it's the type of amusement and parody that more fits our current moment, whether that be what they wind up gambling to try to make money, the type of annoying man who gets May and Xan involved in an illicit race, or the utter parody of ridiculous capitalism that they all come up against. I don't really know how to describe this any better, but the Audacity is just tremendous fun and reads really quickly for its short page length.
Josh has rated The Audacity 8/10. For more detail, check out his full review.
Matt's Review and Rating
The Audacity is an exuberantly animated Space Opera—in the prose, the hijinks and especially the characters. Loup writes with the rolling wit of a storytelling standup reading the eyes of their audience to "keep going". Colorful, queer and heartfelt—May and Xan make wonderful hosts aboard the good ship Audacity for a new generation of galactic hitchhikers.
Matt has rated The Audacity 6.5/10.
Sarah's Review and Rating
The writing is top-notch and clever (including the times it breaks the fourth wall), all the characters are well-drawn and likable (even the villain), and I couldn't help but snort at the ridiculousness of it all.

By the end, I was loving the friendships that had developed amidst the chaos, and the strange logic that the randomness maintained throughout. That's impressive crafting right there.

Take a break from the mundanity of life with this dose of weird and warm-hearted indie scifi.
Sarah has rated The Audacity 8/10. For more detail, check out her full review.
Official Scores
| | |
| --- | --- |
| Jay | 6.5 |
| Josh | 8* |
| Matt | 6.5 |
| Sarah | 8* |
| Team | 7.25 |
* indicates judge's top score of the competition to date