My team has been given 28 books to evaluate in the first round of the second annual Self-Published Science Fiction Competition (SPSFC2), with the ultimate task of whittling them to three by the end of January. Those semifinalists will be passed to other judging teams for another round of evaluation before the finalists are chosen next spring. But as other judges well know, going straight from 28 to three is a daunting challenge. For this reason, most judging teams have implemented some method of sampling and narrowing the initial field. In particular, we have decided to assign each book to two of our five readers, have them read as long as their interest lasts, and return with a recommendation. The books recommended by our initial readers will be named quarterfinalists and passed to the remainder of the team for full reads, and the others will be eliminated.
I must emphasize that an elimination at this stage does not mean that a book is low-quality–we've seen SPFBO finalists eliminated in the first stage of SPSFC, and one of my personal favorites was a first-round elimination by another team. Tastes vary widely across the spectrum of sci-fi readers, and sometimes a book's randomly assigned judging team just isn't the best fit for the book. We've tried to mitigate that by allowing our team members to choose their own "initial reader" assignments from our randomly-assigned stack, but it's impossible to keep every good book from falling through the cracks.
Today is the first of three elimination posts leading up to the announcement of our quarterfinalists. While we were not able to provide full reviews for the eliminated books, we've done our best to give a brief summary of the strengths and weaknesses as we saw them, and of our reasons for making the cuts. And, as a final note, the order in which a book appears has no correlation with how close it was to becoming a quarterfinalist.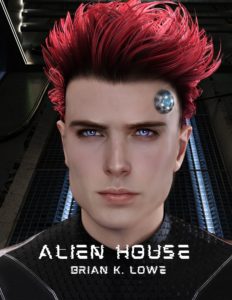 Title: Alien House
Author: Brian K. Lowe
Status: CUT
Consensus: This Animal House riff with an alien lead has a bit too much early infodumping and ogling of coeds for our taste. Any overarching plot (beyond the obvious alien-in-a-frat setup) doesn't get rolling in the early going, so Alien House relies on frat tropes for its hook. For us, it wasn't enough for a quarterfinal place.
Title: Silicon Minds of Mars
Author: Jeremy Reimer
Status: CUT
Consensus: The GameLit hook wasn't enough for our readers to look past the plot holes and lack of character depth. The hard transitions between scenes don't offer enough connective tissues to make the story feel cohesive, and the burgeoning romance between the two leads isn't convincing enough to maintain our readers' interest.
Title: The House of Haddaway
Author: Parker J. Cole
Status: CUT
Consensus: This romantic fairytale retelling in space features an arranged marriage between members of different species. The romance takes a backseat to galactic intrigue in the early stages, but the writing quality and web of secrets was enough to draw the attention of one of our initial readers. But ultimately, our readers didn't see the kind of depth or romantic chemistry needed for a quarterfinal spot.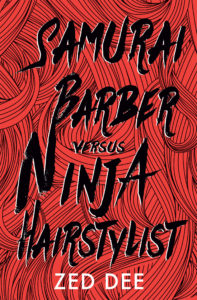 Title: Samurai Barber Versus Ninja Hairstylist
Author: Zed Dee
Status: CUT
Consensus: Set in a wild world, with sentient trains and cell phones, and with samurai and ninjas an ordinary part of life, this managed to charm both of our initial readers into sticking with it through the end. An entertaining narrative and anti-capitalist social commentary have our readers curious to read more of Dee's work, but the abrupt addition of a late plot arc and a complete lack of closure at the conclusion keeps this one off our quarterfinal list, in one of our most difficult cut decisions of the round. For more details, check out Josh's full review and Sarah's full review.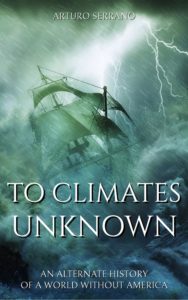 Title: To Climates Unknown
Author: Arturo Serrano
Status: CUT
Consensus: A philosophical sci-fi with a quality authorial voice, To Climates Unknown had perhaps the most eye-catching blurb of anything in our batch. But it's an alt history novel that really leans into the history, moving rapidly through a survey of events that had our readers struggling to latch onto central characters or plotlines.
Title: The Wreck of the Nebula Dream
Author: Veronica Scott
Status: CUT
Consensus: Experience with this sci-fi riff on the Titanic will depend heavily on how one connects with the first-person narrator, a disgruntled soldier jaded with the excesses of the luxury class. While our readers saw elements that piqued their curiosity, they ultimately didn't enjoy the voice of the lead enough to send it through to the next round.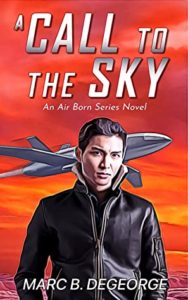 Title: A Call to the Sky
Author: Marc B. DeGeorge
Status: CUT
Consensus: Set in a world of planes and sky islands, A Call to the Sky follows a young pilot tasked to deliver a mysterious package that could unite the clans. Our initial readers saw it as solid young adult sci-fi, with an interesting hook and engaging writing. But it's sometimes paced a little too quickly, and while we'd have had plenty of fun with it as teenagers, it didn't have that extra element to suggest a tale that would refresh the tropes that veteran readers have seen so often.