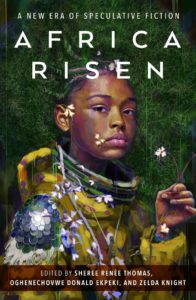 This review is based on an eARC (Advance Reading Copy) provided by the publisher via NetGalley in exchange for an honest review. Africa Risen will be released on November 15, 2022.
I've been really enjoying African short fiction lately, with four African-authored stories on my favorites of 2021 list and two on my Hugo nominating ballot. Combined with my enjoyment of the work edited by Sheree Renée Thomas included in the 2022 Hugo packet, it was an easy choice to request an ARC of the African short fiction anthology she edited with Oghenechovwe Donald Ekpeki and Zelda Knight. 
While I have dived headfirst into short fiction over the last couple years, I've had a little bit more trouble with anthologies. I'm not sure how much of that has come down to the choice of anthology, and how much is the subtle changes in reading style—reading at a different time of day, being mentally primed for a longer piece when reading on Kindle instead of a computer screen, etc.—but it's been noticeable. Unfortunately, Africa Risen was no exception. That said, in an anthology of this length, and with this many talented authors, there's bound to be some really excellent work, and I certainly found plenty to enjoy. 
Of the 32 pieces in the anthology, there were four that really stood out to me, and it starts with Wole Talabi's "A Dream of Electric Mothers." Talabi has explored the concept of recreating the consciousness of deceased ancestors in "The Regression Test" and "Comments on Your Provisional Patent Application for an Eternal Spirit Core," and this novelette continues the theme with an exploration of a ruling council that leans on the wisdom of their ancestors for all big decisions. It's engaging throughout, with a secondary plot that integrates perfectly at the finish. 
I also loved the heart of Steven Barnes' "IRL," about an elite gamer in a world where real-world justice has been farmed out to the virtual world, giving online beefs devastating consequences. I'm not sure I totally bought the premise, but the interpersonal core makes for a fantastic story regardless. Alex Jennings' "A Knight in Tunisia" tackles superhero stories in a way that leans into the mental trauma of never fitting in and constant involvement in war, leading with group therapy and progressing from there in a disorienting but fascinating novelette. Finally, Tobias S. Buckell's "The Sugar Mill" was executed with his customary aplomb, telling of a Caribbean realtor trying to balance the financial benefit of selling to wealthy white buyers with the pleadings of the ghosts of slaves that haunt the property. 
Unfortunately, Buckell's was one of several stories pitting the supernatural against real-world injustice, and without the length to really invest in the characters, they tended to run together. I won't say they were poorly executed, but it's hard enough to stand out in a short space when there aren't so many hitting similar themes. Buckell's did, and Mame Bougouma Diene and Woppa Diallo's novelette "A Soul of Small Places"—about the rape of young girls in Senegal—was long enough to carve out its own place in my memory, but so many of the others faded as soon as they finished. 
Coming into the anthology, I was familiar with several of these authors, and the strength of the names I knew made me hopeful to find new gems as well. That hope didn't really materialize, but the names I knew by-and-large delivered the expected quality. Tananarive Due builds a wonderfully creepy atmosphere in "Ghost Ship"—perhaps the one story I would've liked to see go longer than it did—and Tobi Ogundiran tells a well-executed horror story in "The Lady of the Yellow-Painted Library." I'm not a huge horror fan, but those who are will doubtless see that as one of the highlights of the anthology. Similarly, I haven't been as intrigued as others with Dilman Dila's reflections on personhood and AI, but fans of "Red_Bati" will probably also enjoy "The Blue House," which I've seen cited more than a few times as one of the stars of the collection. Finally, Tlotlo Tsamaase has established herself as a rising star, with passion, ambition, and thematic depth suffusing every inch of her prose. Personally, I found her work to vacillate between brilliant and confusing, and "Peeling Time (Deluxe Edition)" leans more toward the latter, but she's always worth the read, even if I haven't found one that surpasses "The ThoughtBox." 
Beyond that, there's a good mix of far-future sci-fi,near-future sci-fi, folk tale, fantasy, and horror. There are clear thematic threads that crop up again and again, but there's not one particular style or setting that ties the collection together, beyond the African roots. Overall, the hit rate wasn't enough for me to love this anthology, but the quality at the top was enough that I have a hard time going below 3.5 stars. 
Recommended if you like: extended anthologies with significant topical variance, the supernatural fighting injustice. 
Can I use it for Bingo? It's hard mode for Five Short Stories and Two or More Authors, and while not every piece has the same setting and theme, I'd argue it's hard mode for Set in Africa and Features Mental Health as well. It also is written by BIPOC Authors and has No Ifs Ands Or Buts. 
Overall rating: 14 of Tar Vol's 20. Four stars on Goodreads.