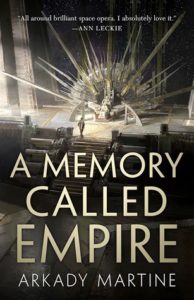 A Memory Called Empire won the Hugo Award for Best Novel shortly after I had gotten back into speculative fiction but before I started following genre awards. But with its sequel nominated for Best Novel this year, I figured it was high time to circle back and read Arkady Martine's debut. 
A Memory Called Empire stars Mahit Dzmare, a young diplomat on tiny, independent Lsel Station, tabbed to serve as ambassador to the all-consuming interstellar empire Teixcalaan, after the previous ambassador of two decades had mysteriously stopped sending updates. Mahit's aims are to determine what happened to her predecessor while keeping Lsel from being consumed by the ever-expanding empire. And she has to do all of this without her expected support, and while navigating a Teixcalaanli succession crisis. 
A Memory Called Empire is in many ways a fish-out-of-water tale, with a character thrust into a new environment and trying to get the lay of the land before that land topples them. The setup reminds me somewhat of The Goblin Emperor, in that the lead knows quite a bit about the culture but almost none of the political nuances that are invaluable when serving so close to (or in The Goblin Emperor, in) the seat of power. The stories diverge sharply in level of violence, and A Memory Called Empire doesn't have quite as good a justification for the lead's information gaps, but both tales prominently feature a lead coming from outside the capital and relying heavily on newfound local support to survive. 
I find that sometimes that style of story can make it hard to connect to the plot. Things are happening, but the information is generally being filtered secondhand, and the lead lacks the context to put the pieces together—at least in the early stages. And it didn't help that Mahit relied so heavily on a local advisor who had neither political reason nor preexisting relationship to justify going so above-and-beyond. The relationship was well-built, but there were times where the investment in Mahit's goals strained credulity. 
But the immersion is Teixcalaanli culture was fantastic, and it kept me going through what otherwise might've been rough patches. From the naming system—made of numbers and nouns, and providing opportunity for several delightful digressions on nonstandard names—to the obsession with art and poetry, Teixcalaan came alive, and it kept me interested in the place even when the story was building more slowly. It also hammered home the odd mix of love and fear of Teixcalaan that led Mahit to pursue an ambassadorial position in the first place. 
And though the plot may start slowly and stretch suspension of disbelief at times, it does come together for a fast-paced and hard-hitting ending that justified my investment in this story while also setting the stage for a sequel. The conclusion pulled together so many plot threads and justifies so many of the cultural asides that we'd spend a book hearing about, while at the same time leaving one set of hints almost entirely unresolved, simultaneously providing a satisfying ending and a sequel hook. I'm not sure this would've had my vote for best novel the year it came out, but there's plenty of good that has me excited for the next one. 
Recommended if you like: fish-out-of-water stories with a lot of politics, well-realized cultures. 
Can I use it for Bingo? There aren't a lot of obvious ones except for LGBTQIA List, but I'd say Family Matters, and there's something of a Revolution or Rebellion. And I haven't checked, but it's doubtless been a Book Club book.
Overall rating: 16 of Tar Vol's 20. Four stars on Goodreads.