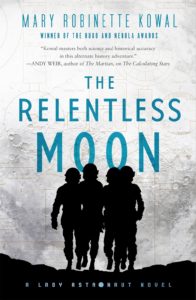 Mary Robinette Kowal won a Hugo in 2019 with the excellent The Calculating Stars, an alternate history space race with plenty of hypercompetent women pressing against social prejudice (it spends more time on gender than race, but I'd recommend this for fans of Hidden Figures). But The Calculating Stars was itself a prequel to her "The Lady Astronaut of Mars" novelette, and the world didn't feel like it needed even more stories. So when she released The Fated Sky and The Relentless Moon, I let them pass me by. Until The Relentless Moon popped up as a 2021 Hugo Award Finalist for Best Novel, and I felt pressed to dive back in. And am I glad I did! 
[Note: The Relentless Moon is the third published novel in the Lady Astronaut series but is written to be comprehensible as a standalone. Someone who starts the series here may miss some of the nuances of the side characters, but, because of the nature of the series in which everything is prequel to "The Lady Astronaut of Mars," it won't really spoil The Calculating Stars]
The Relentless Moon takes place about a decade after the events of The Calculating Stars (and simultaneous with the events of The Fated Sky, which I have not yet read), with the space program in full swing but a growing movement of dissidents afraid of being ignored on Earth while disproportionate funding was diverted into the skies. It also features a new protagonist, Nicole Wargin, a 50-something Governor's wife and one of the original cast of lady astronauts (but not the Lady Astronaut) from The Calculating Stars. When the Earth First protests turn to outright terrorism, Nicole is tasked with finding the operatives inside the space program before their attacks turn deadly. 
Despite continuing an existing series, The Relentless Moon pushes the pace and breaks into a new subgenre. The Calculating Stars–following an intense, apocalyptic opening–told a relatively slow-paced story about extremely intelligent and skilled women overcoming social prejudice to become an integral part of the space program. And those elements are still here in The Relentless Moon, as Nicole must scratch and claw for every inch of authority in a society that refuses to fully utilize its talent because of their race or gender. But with the addition of the espionage storyline, the slower pace of its predecessor is entirely absent. The Relentless Moon is relentless, with sabotages and violent uprisings in the first chapters and the promise of more and bigger if Nicole cannot root out the insurrectionists. Kowal has taken the formula of women overcoming and overlaid a spy thriller, and it certainly thrills. 
Of course, I'm on the record as disliking thrillers—a page-turning plot just doesn't serve without a lot of support. But such a well-crafted, twisty, impossible-to-put-down espionage plot needs less support than others, and it gets much more, in the form of both a compelling lead and a compelling antagonist, along with the return of some much-loved secondary characters. Elma, the protagonist of the previous entries in the series, was likable enough, but the switch to Nicole feels like all addition and no loss. She's probably more relatable, and the coupling of her experience as an astronaut with her background outside the sciences allows for her to center a story that adds politics and spycraft to existing scientific base. And the internal struggles that made Elma feel real are back with Nicole, as Kowal continues to address the theme of women having to hide their mental health struggles to be seen as competent. As a politician's wife, Nicole doesn't have Elma's anxiety in the public eye, but her battle with anorexia is presented with care and directly affects her capacity to respond to crises of plot. For that matter, her physical injuries do the same—while thrillers are notorious for major injuries that are forgotten a chapter later, Nicole cannot set aside either her mental or physical scars, which may hurt her ability to save the day but which makes her come alive in a way so many protagonists do not. 
In addition, Kowal brings the same nuance and care to the antagonists, building a terrorist group whose motivations are genuinely sympathetic, for all that their actions are horrifying. There are no mustache-twirlers, and there is no simple morality tale. There are times where the conflicts feel like they could've been pulled straight from the present day world, but never because of simple analogues carried over into the novel. Rather, it's because human responses to disaster and change never cease being relevant, and skilled treatment in an alternate history is bound to speak to the present day. 
If there's an aspect in which The Relentless Moon doesn't ring quite true, it's as a period piece. The setting is an alternate history 1960s, but the narration has an openness that feels nothing but contemporary. Of course, it is a contemporary novel, and there's no frame narrative that suggests the first-person narration is some in-universe piece written for a 1960s audience, so there's nothing inherently contradictory about the style. The problems are alt history 1960s problems, and the characters react in alt history 1960s ways. But the storytelling, while an excellent example of contemporary style, is quite 2020. 
I've given 18/20 to three of the five Best Novel finalists I've read so far, so there is no lack of competition for my top spot. But the combination of thrilling plot, deft social commentary, and remarkably nuanced characterization makes The Relentless Moon a serious contender for my vote. It's outstanding. 
Recommended if you like: The Calculating Stars, sci-fi thrillers, competent leads, careful exploration of mental health battles, overcoming social prejudice. 
Can I use it for Bingo? It's a hard mode Mystery Plot, but is also on the A-Z Genre Guide, a Book Club pick, a Comfort Read (probably), a Genre Mashup, a 500-Page Book, and features Found Family. 
Overall rating: 18 of Tar Vol's 20. Five stars on Goodreads.