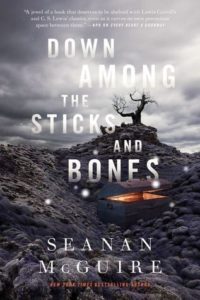 Part of working through this year's Hugo Award finalists meant catching up on some backstory. Seanan McGuire's Come Tumbling Down—the fifth Wayward Children novella and a direct sequel to the series-opening Every Heart a Doorway (reviewed here)—was nominated, but I was advised by some bookish friends to ensure that I also read Down Among the Sticks and Bones, which serves as a prequel to both, before proceeding to the finalist novella. So, after only a little bit of reading order confusion, I dived in and found a gem. 
But before I dive into the review, I would like to take a moment to discuss reading order, for anyone who has not yet started this series. Down Among the Sticks and Bones and Every Heart a Doorway mutually spoil—the prequel plot is sketched almost entirely in the series-opener, but the ending of the prequel foreshadows the series-opener so thoroughly that I actually find it to be more of a spoiler to read them in in-story chronological order instead of publication order. Down Among the Sticks and Bones is designed to be read with knowledge of the ending, and Every Heart a Doorway is not. So if you plan to read both, I'd stick with publication order. But the first two books feel like entirely different subgenres, with a murder mystery/magic school opener followed by a portal fantasy prequel, and if you're not already committed to the series, I found Down Among the Sticks and Bones more compelling as a self-contained story. 
As I mentioned, Down Among the Sticks and Bones contains almost nothing new from a plot perspective, with every key event sketched in Every Heart a Doorway. So McGuire must rely on the quality of the storytelling to hook the reader into the journey of Jacqueline and Jillian Walcott through a portal into a horrifying fantasy world, and she does so with aplomb. 
Unlike the first novella in the series, Down Among the Sticks and Bones is told in a stylized narrative voice reminiscent of children's stories. Several (short) chapters are spent sketching the oppressive lives Jacqueline and Jillian lead in the real world—the lives that make a portal so very tempting—and the tone is absolutely impeccable, calling to mind C.S. Lewis' famous opening to The Voyage of the Dawn Treader. McGuire's story is much darker (and more adult) than Lewis', but the ability to capture the horrors of everyday life, whether stylized or not, makes the fantasy world seem that much more magical, even if it is a dark fantasy world. 
And the narrative doesn't slacken once through the portal, as Jack and Jill, having put aside their full names, are immersed in a world of both wonder and horror and are drawn inexorably toward the conclusion that those reading in publication order know all too well is coming. McGuire does use generous time skips—again, reminiscent of fairy tales—and sometimes it feels as if she could have spent a little more time establishing the character development, especially Jill's (and I wonder if she held back partially because crossing the novella/novel border would've been an awkward fit in a series of novellas), but everything else is impeccable. My quibbles with the first novella are gone here—the ending is earned (and expected), and while the individualist themes still run pretty strong, it feels like nothing more than a justified reaction against overbearing parents. Add in a brilliantly drawn world, stakes that feel high even with the conclusion known in advance, and archetypical side characters that remain compelling no matter how many times they've been done, and you have the recipe for an excellent novella. 
Recommended if you like: dark fairy tales, portal fantasies. 
Can I use it for Bingo? It fits hard mode for Chapter Titles, and there is also at least one Witch. 
Overall rating: 17 of Tar Vol's 20. Five stars on Goodreads.